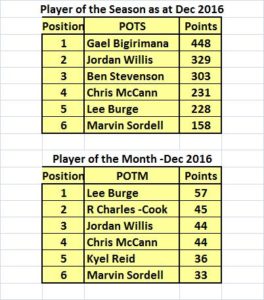 Congratulations goes to Lee Burge, who is the CCLSC Player of the Month for December. For the first time, we can recall, voting for the first and second places last month went to goalkeepers. Lee Burge was also the November Player of the Month.
Gael Bigirimana still has a commanding lead in the Player of the Season table.
The latest top six are shown on the right.
Don't forget you can vote for your top three players if you attend a game, or watch the full game where it is televised live. Vote using the form on the Man of the Match page.