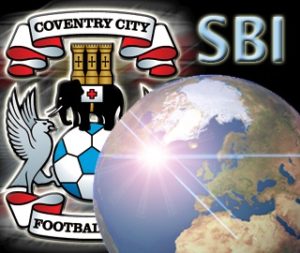 We would like to wish everyone a happy and prosperous 2017.
From a Sky Blues point of view, thank goodness 2016 is now over. 12 months ago we were all looking forward to a promotion push, whilst now, we are all calculating the points needed to stay in League One.
The appointment of Russell Slade, had all the old jokes about Slade for Christmas. "Look to the future now, We've only just begun." seems relevant. That's Noddy Holder's Slade, of course. All at CCLSC wish him well.
It is imperative that we avoid relegation. It would be unthinkable if we had to spend part of the 30th anniversary, of our FA Cup triumph, in the fourth tier of English Football.
January is going to prove to be a massive month for us. As this is written, Slade has completed three signings and one player has left the club on the first day of the transfer window. Marvin Sordell, who was often played out of position in many people's view, leaves for Burton, with striker Stuart Beavon and midfielder Callum Reilly coming the other way. Not surprisingly, his other signing was an experienced centre back. Nathan Clarke signed from Bradford City, and was Slade's captain at Orient. Both Beavon and Clarke are permanent signings, with Reilly joining on loan until the end of April.

We have a number of players leaving after their loan periods and possibly others sold on, and to have half a chance of staying up we need to recruit possibly six, seven or even more players. Given the new loan rules, sides may well keep their players until the end of the transfer window, just in case, making our plight more difficult. So three reinforcements, on day 1 of the transfer window, certainly was positive news for supporters.
Perhaps those members who didn't use up all their wishes over Christmas, can wish that Callum Wilson is sold, early in the transfer window, to help fund the rebuilding of our team.
Could last month have started any worse? The distraction of the FA Cup was just that – we were comprehensively beaten by League Two side, Cambridge Utd. The chants from the SBA were, at times, even humorous, with the renditions of "look on the bright side of life" and "sign him up " when the steward returned the match ball to the keeper. But, in reality, it highlighted the plight our team is in. Perhaps more depressing, is the split among supporters, who seem to have forgotten how to support the team, with more frequent chants about the owners than encouraging our very young and inexperienced team.
Further comprehensive away defeats followed at Southend and Bristol Rovers. We were just as bad in these games, with lack lustre performances. The Boxing Day loss, Russell Slade's first game, became the 7th consecutive defeat. Hopefully, the SBA were suffering Christmas hangovers, as they were also very lacklustre, with very little vocal support both for the team or against the owners. The team performance and the vocal support was back at Peterborough, where the very late equaliser robbed us of what would have been three very welcome points.
The Sky TV game against Sheffield United last month will be remembered for the protests, with supporters venting their displeasure against the owners.
We did progress in the Checkatrade trophy, with a win against Crawley. Is it too much to hope that a Wembley trip is on the cards, on 2 April, just a few weeks before the 30th Anniversary of the win over Spurs?
December's bad news wasn't just about our poor performances. Our Supporters Consultative Group (SCG) representative, Colin Henderson, received an email saying a decision to wind up the SCG had been taken by the Directors of the Club and SCG Chairman, Jonathan Strange, apparently without consultation with the rest of the Group. Colin hopes to provide members with more updates on any consultation, and our representation, in the near future.
Whitefriars
The other devastating news to reach us before Christmas was that our other "home", the Whitefriars Olde Ale House, was to close, with immediate effect. We have been regulars, before games, for many years and Matt, Mary, Trish and the staff always gave us a warm welcome.
As Barry put it in his email notifying the committee members and regular travellers, "it feels like we are losing our football team and now we have lost our pub. A sad day indeed."
We have had some great memories there and we have always felt welcome whenever we have been there. See some photos below.
The task of finding a new meeting place is under way, with several city centre pubs under review. We are meeting at the Gatehouse Tavern, in Hill Street, before the Bolton & Fleetwood games. (See the CCLSC website contact page for a map.) All are welcome to join us.
Finally, let's all hope that 2017 sees the start of our Sky Blues revival.
#Keep the faith